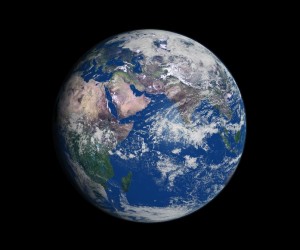 Many global stock ETFs have huge allocations to U.S. stocks.
---
ETFs are popular for a number of reasons; among them is the relative ease with which a low-cost, diversified portfolio can be constructed. Several Global Stock ETFs offer exposure to the global equity market — thousands of stocks from dozens of different countries — through a single ticker. But defining and creating global stock market exposure can be a tricky task — with results that might surprise some. 
The MSCI All Country World Index, which serves as the underlying benchmark for ACWI, includes about 2,500 individual stocks from 46 different countries. But the U.S. represents more than half of the underlying portfolio, with emerging markets making up only about 10 percent of assets.f
The following table shows the allocation given to each country in ACWI, along with the current population, expected 2050 population, and current percentage of GDP. The far right column shows the ratio of the weight in the index to the percentage of global GDP:
There are several interesting aspects highlighted by this data:
The allocation to U.S. equities significantly exceeds both the share of global population and GDP (though there is an important caveat to this point, discussed below);
The countries not included at all — primarily African economies — represent a meaningful percentage of current GDP and more than 40 percent of the expected global population in 2050; and
There is one notable complicating factor in this analysis: the index weight assigned to each country doesn't necessarily represent the percentage of revenue or earnings generated from that company. Nestlé, for example, is a Swiss company, but more than one-third of its profit is generated in North and South America. Nearly every component of ACWI is a multinational company that earns revenues in many countries besides the location of its primary listing.
Market Cap Magnitude
The apparent preference for U.S. stocks also results from the relative size of stock exchanges in each country. The combined market cap of the NYSE and Nasdaq exchanges is approaching $25 trillion, while the Shanghai and Shenzhen exchanges have less than $7 trillion in total market cap. The aggregate value of Brazil's BM&F Bovespa exchange is less than the market cap of Apple (AAPL).
There are several different methodologies that can be used to construct a global stock portfolio, and a reflection of global stock exchanges will be likely look quite different than a reflection of global GDP or population. Investors should understand the biases and tilts that their approach includes.

About the Author: Michael Johnston
Michael Johnston is senior analyst for ETF Reference, and also serves as COO of parent company Poseidon Financial. His investment expertise has been featured in The Wall Street Journal, Barron's, and USA Today, among other publications. He resides in Chicago.