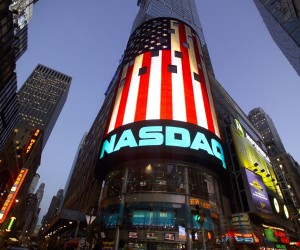 Those who follow the daily movements of the Dow are clearly in the minority.
---
Earlier this week Josh Brown highlighted some fascinating data from Convergex, illustrating the apparent apathy among the general public towards the financial markets. Search volume for many generic terms, from "ETF" to "real estate" to "stockbroker," had actually declined over the past several months.

Josh (and Nick) may be on to something here; while it often seems as if the world revolves around the stock market, the reality is that most Americans just don't care.
TV, Books, Movies, and Magazines
One of the most anticipated books in financial circles in recent years was Flash Boys, Michael Lewis' blockbuster on high frequency trading. The book was a huge hit, and topped the New York Times' best-seller list for nearly a month in 2014.
Still, it finished the year at #63 on Amazon's list of the year's top reads, well behind three different books based on Disney's Frozen and other titles originally released in 1925, 1960, and 1969. Below is an incomplete list of the titles that came in ahead for the year.
Similarly, many in the finance profession looked forward to the release of The Wolf of Wall Street in 2013. The film actually did pretty well financially, taking in about $117 million. That put it behind 27 other films for the year, including a sequel to a movie that had a Rotten Tomatoes score of 10%. (The sequel did slightly worse.)
The Wall Street Journal is a staple of any workplace even loosely connected to financial markets — which of course represents a relatively small slice of the total work force. With a circulation of about 2.4 million, the Journal certainly qualifies as a niche publication.
An equal number of Americans have a subscription to O, the magazine launched by Oprah Winfrey in 2000. (The Journal was first printed in 1889.) The circulation total just barely edges TV Guide, which apparently is still a thing in 2015.
Search Engine Battles
A few head-to-head Google Trends comparisons tells a similar story, as interest in the biggest Wall Street personalities falls well short of other pop culture figures.
Jim Cramer vs. Cosmo Kramer
Jim Cramer is perhaps one of the most widely recognized personalities in the financial media. There is almost as much interest in the Mad Money host as there is for Cosmo Kramer, a fictional character last seen in the 1998 finale of Seinfeld.
On a recent Thursday evening, Cramer's Mad Money drew approximately 158,000 viewers during its 6 p.m. time slot. About five times as many people watched each of the four back-to-back episodes of Seinfeld that TBS airs, and about 1.6 million more people watched a special about O.J. Simpson on A&E later that evening.
On August 24, when the Dow briefly plunged 1,000 points, both CNBC and Fox Business captured their largest audiences of the year. Fox Business averaged 179,000 viewers for the day. 
Janet Yellen vs. Janet Jackson
Janet Yellen is perhaps one of the most powerful women in the world, but there is much more interest in Janet Jackson. (If the timeline is extended back to the Super Bowl XXXVIII, Yellen's line would barely register.)
A Pew Research Survey conducted in September 2014 illustrates the lack of familiarity with Yellen. Only about half of respondents could even come up with an answer when asked to identify the chair of the Federal Reserve. Many of those who did answer were under the impression that Alan Greenspan, who was replaced by Ben Bernanke in 2006, was still running the Fed.
Carl Icahn vs. Carl Sagan vs. Carl Jung
Carl Icahn is well known in the financial world; the activist investor makes regular TV appearances, and appears in the headlines on a regular basis. In the general population, there is considerably more interest in an astronomer who died in 1996 and a psychologist who died two years before JFK.
Jack Dorsey vs. Jack Daniel's
The vacant CEO position at Twitter (TWTR) has been a frequent topic of coverage and conversation in the financial world, even after it became apparent that co-founder Jack Dorsey would land the job. The surge in interest in Dorsey barely registers when compared to interest in liquor. (The reasons behind the surge in interest for Jack Daniel's each December is a whole different discussion.)
Berkshire Hathaway vs. Anne Hathaway
Warren Buffett is about as famous as it gets in the world of investing. But the primary source of his wealth, Berkshire Hathaway, doesn't generate nearly as much interest as the star of The Princess Diaries.
The Oracle of Omaha does eclipse musician Jimmy Buffett in overall search volume.
Bloomberg vs. NES, MiB vs. %$*
In 2014, Bloomberg reportedly maintained about 321,000 subscribers to its signature terminal (which translates to about $6.4 billion in annual revenue). By comparison, Nintendo has sold almost 102 million Wii units — about 316 for every Bloomberg subscriber.
The Masters in Business podcast, which is simply fantastic, is hovering around #100 on iTunes. That puts it about 88 spots behind something called Guys We F****d (seriously).
So there you have it: the general attitude towards the stock market can indeed be described as "utter apathy." That's probably a positive indicator, given the fact that high levels of activity tend to produce undesirable results. At the very least, it's yet another indicator that this isn't a repeat of 1999.

About the Author: Michael Johnston
Michael Johnston is senior analyst for ETF Reference, and also serves as COO of parent company Poseidon Financial. His investment expertise has been featured in The Wall Street Journal, Barron's, and USA Today, among other publications. He resides in Chicago.